Gratitude, Grace & A Month of Self-Reflection
A distance learning program with Gregg Krech
The program begins on Thursday, November 14th
Every November, in the spirit of Thanksgiving, we offer a month-long distance learning program based on self-reflection.  This program helps us to recognize the support that we receive in our lives, thereby stimulating gratitude.  It can soften our hearts, allowing genuine compassion to replace resentment and hard feelings. It can lend us fresh eyes with which to understand our place in the world. 
Participants will receive:
● 30 daily exercises, based on Naikan and other compatible self-reflection practices, which comprise the core experiential component of the program;
● thought-provoking study materials to support and enrich your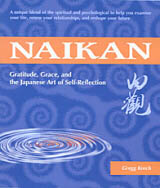 experience (Naikan: Gratitude, Grace & the Japanese Art of Self-Reflection by Gregg Krech, as well as selected resources on the theme of self-reflection);

● a global online discussion, facilitated by Gregg Krech, which provides richness, diversity, support and camaraderie.

Start your holiday season with a sense of grace and an experience of gratitude.  The lessons revealed through the practice of self-reflection are personal and important, often having a profound impact on the way we view our past and the way we understand and participate in our lives.

** For those interested in ToDo's Certification in Japanese Psychology -- please note this program provides 16 credits toward certification.
** For mental health professionals – you can now receive 15 CEU's for this program! (additional cost).  
With thanks,
Linda Anderson Krech, LICSW